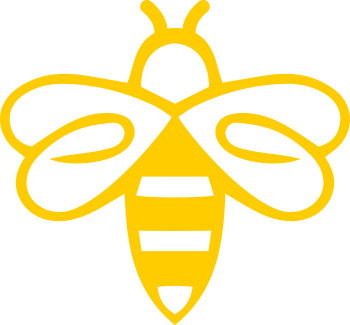 Swarms
If a swarm of bees has landed in your garden or somewhere on your property (or maybe even on your car!) don't panic, we can help.
We will gladly come and collect swarms, free of charge within a 10 mile radius of Bexhill-on-Sea
, and give them a good home in one of our rural apiaries in and around Bexhill. We'll even give you a free jar of our delicious natural honey as a thank you! (or a voucher for one jar of honey if we have run out of honey from this year's harvest, which could happen soon ...) And, as a further "thank you" we will donate £30 for each swarm collected to our favourite bee charity:
BBKA Save the Bees
Update May 2023 - we are temporarily unable to collect swarms due to circumstances out of our control - if you need a swarm collected please find your nearest beekeeper on the BBKA Swarm Map
---
Send Us A Photo
All we ask is that you send us a photograph of the swarm - by email to
swarms@purelybees.com
, or by text message to
07825 835 988
, or message us on
Facebook Purely Bees
and we will get back to you as quickly as we can. Sorry, being busy beekeepers we can't always take phone calls as we are often out in the apiaries in our bee suits and gloves, surrounded by flying bees and handling honeycomb, so it gets tricky (not to mention sticky) to answer the phone!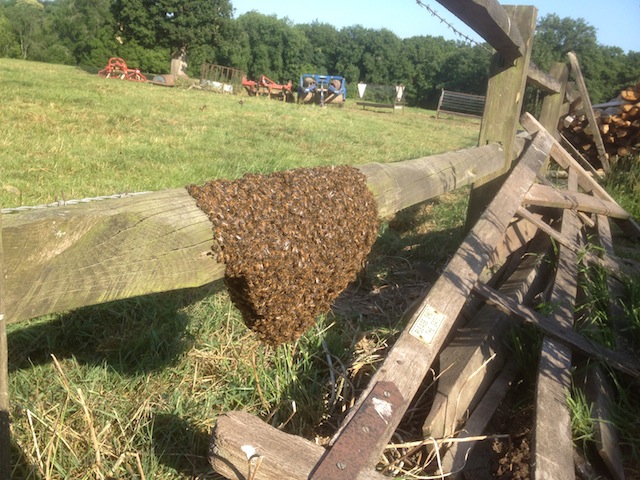 This is what a swarm of honeybees looks like - not to be confused with bumblebees or wasps, which don't swarm in this manner. Swarming is the way honeybees multiply to create new nests - during spring and summer, new queen bees hatch and leave the old nest along with a number of worker bees and drones, in search of a new home. On the way, they usually rest up wherever they can for anything up to a few days, while the "scout bees" go off in search of the perfect permanent home (a hollow tree or suchlike is their preferred natural habitat).

Swarming bees are interested in only one thing - finding a new home - and are extremely unlikely to be aggressive as long as you leave them in peace. They will have filled up their stomachs with honey before leaving the parent nest, and consequently are usually in a fairly mellow, drowsy mood (just like us humans after a hearty Sunday lunch!)